Help Marine Corps Recruiters Enjoy a Day With Family
The donation you're making today will help fund travel expenses for Marine Corps Recruiters and to have a day off to go to Six Flags with their family members. MarineParents.com needs your help raising $6,600 for bus transportation and theme park admission. You can be part of their day off with family. Donate today.
MarineParents.com, Inc. is an IRS-approved 501(c)(3) public charity and your donation is tax deductible as allowed by IRS tax law. Make your donation using our secure online interface and your credit card or debit card. We accept Mastercard, Visa, American Express and Discover.
UPDATE: As of 10:00AM CST Wednesday, July 25 we have raised $4,334 of our $6,600 goal. We are running out of time...
---
Make Your Donation
Their Story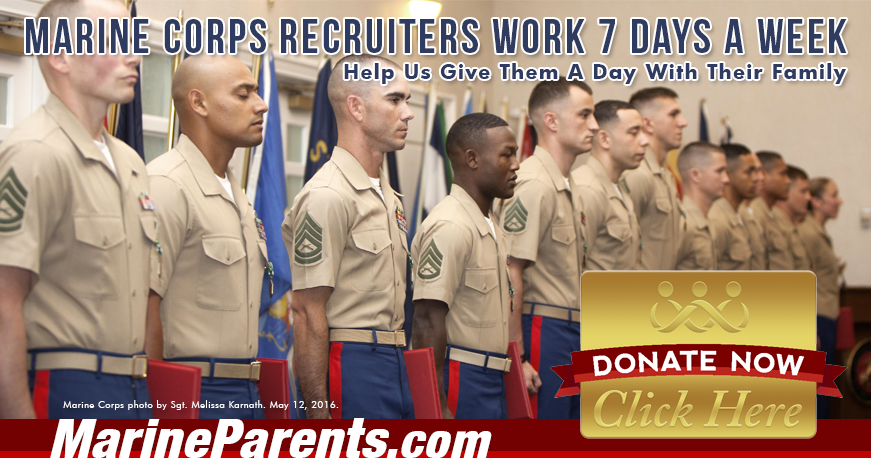 Marines often work odd and long hours. For the most part, the Marines that come to mind are Drill Instructors or Marines deployed, and rightfully so. However, often lost in the shuffle are Marine Corps Recruiters. Recruiters spend a large amount of time away from their families conducting poolee functions, driving poolees to and from MEPS, and filling out paperwork. Recruiters work long hours seven days a week and do not get to spend much time with their families.
MarineParents.com is holding a fundraiser to give a group of Marine Corps recruiters and Marines who work in the recruiting offices from the New York city area a break from their duties by sending them to Six Flags in mid July to spend some much needed time with their family members.
Most Marines who work in this area do not have their own transportation so we need to fundraise for the cost of two chartered buses as well.
Our goal is to raise $6,600 to cover admission fees and transportation for each Marine and family member in attendance.
For 15 years, MarineParents.com has always stepped up to help our Marines across the nation. Whether it's helping Marines during a time of tragedy or giving them a break from the stressors of work, we continue to ensure that Marines are taken care of. With your help we can give these recruiters and their deserving family members something to smile about.
God Bless and Semper Family!
This is a fantastic cause. Our son's Recruiters were excellent people. Knowledgeable, very helpful, dedicated, self sacrificing, organized and very hard working. Recruiters have a tough job but they are great Marines.
Marine Parent, Bill