Team Marine Parents Donation
You can make your donation using this secured online interface and your credit card or debit card. We accept Mastercard, Visa, American Express and Discover.
MarineParents.com, Inc. is an IRS approved 501(c)(3) public charity eligible to receive tax deductible donations. Over 94% of your donation goes to the outreach program chosen by the Team Marine Parents™ participant.
Donate to Outreach, Support a Runner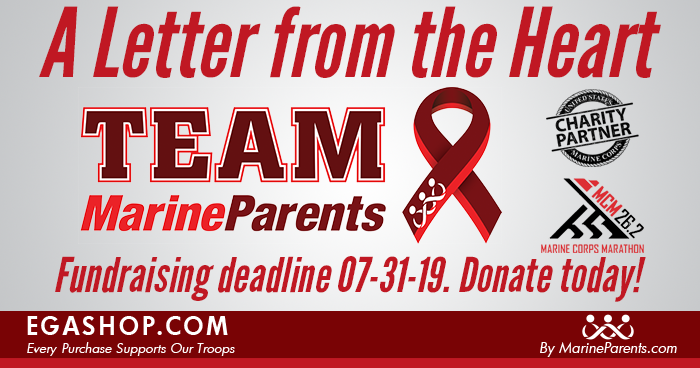 Dear Marine Families,
My name is Lauren Brandkamp, and I'm the Retail & Production Manager at MarineParents.com, and I am the sister of a combat Marine veteran. I am one of the people behind the scenes here on our retail and production team. I have worked at MarineParents.com for five years. It's a job I do with love and an understanding of what it means to be a member of the Marine Corps Family.
I stand behind the mission of MarineParents.com with all my heart!
I have a brother who is a combat Marine veteran and has PTSD. Our Warrior Support Program & Reintegration Bags are AMAZING. I've been able to personally present reintegration bags to Marine veterans who've asked for our help.
I have answered the phone calls of Gold Star Moms who called here to have a shoulder to lean on; I've cried with them. Our Gold Star Luminary Initiative is not just the last Sunday in September; it's a piece of my heart.
My aunt ran 3 Marine Corps Marathons through Team Marine Parents to raise money for MarineParents.com--because her nephew, my brother, did three tours of combat to Iraq. She said if he could do that for our country, then she could run three marathons. MarineParents.com is more than just the place I work; this is my family; this is my heart.
I am reaching out today because we need sponsors and donations for our runners on Team Marine Parents. I have made it my goal to raise $5,000 and, well, I need your support! Please help me reach this goal by July 31, 2019.
Your contribution to Team Marine Parents directly supports the outreach programs of the organization.
I am asking you to PLEASE join me in raising $5,000. Thank you to my Marine Corps family for your support in our efforts!
God Bless & Semper Fi,
Lauren Brandkamp & Family
Retail & Production Manager
MarineParents.com, Inc. and the EGA Shop